Details

Category: News
Created: 09 September 2021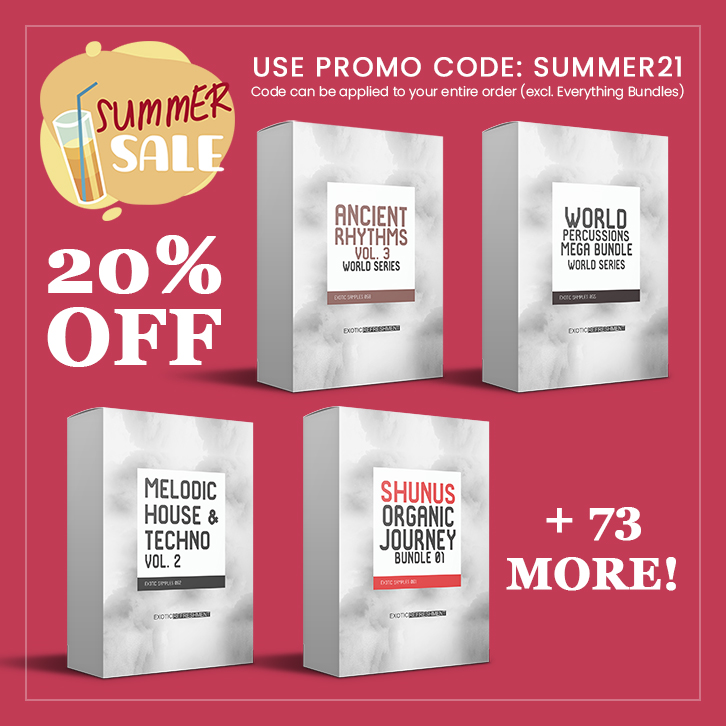 SUMMER SALE on Exotic Music Production ends in few DAYS!
Be sure to use Summer discount code for all Sample Packs and Bundles (excluding Everything Bundles - here Summer discount is already applied) available on our platform Exotic Music Production! :-)
Promo code: SUMMER21 - (expires Sep 22, 2021 - final deadline).
Best / recommended deals with 20% discount code - Sample Packs:
- Melodic House & Techno Bundle 01 - 237 x WAV (44.1 kHz, 24-bit), unzipped: 0,8 GB
- Sfx Mega Bundle - 517 x WAV (44.1 kHz, 24-bit), unzipped: 1,44 GB
- Ancient Rhythms 3 - World Series - 233 x WAV (44.1 kHz, 24-bit), unzipped: 0,5 GB
- World Percussions Mega Bundle - World Series - 540 x WAV (44.1 kHz, 24-bit), unzipped: 1,57 GB
- Shunus Organic Journey Bundle 01 - 313 x WAV (44.1 kHz, 24-bit), unzipped: 1.3 GB
- Year In Review (2020 Edition) - 739 WAV (44.1 kHz, 24-bit), 105 WAV (44.1 kHz, 32-bit), unzipped: 1.68 GB
- HAFT Deeptone Bundle 01 - 271 x WAV (44.1 kHz, 24-bit), unzipped: 252 MB
- HAFT Deeptone vol. 2 - 159 x WAV (44.1 kHz, 24-bit), unzipped: 139 MB
- Gabieris Organic Session vol. 1 - 112 x WAV (44.1 kHz, 32-bit), unzipped: 479 MB
- Kick Drums 3 - 130 x WAV (44.1 kHz, 24-bit), unzipped: 262 MB
- Afro Cuban Percussions - World Series - 135 x WAV (44.1 kHz, 24-bit), unzipped: 365 MB
- Melodic House & Techno vol. 2 - 126 x WAV (44.1 kHz, 24-bit), unzipped: 447 MB
- Sfx vol. 4 - 130 x WAV (44.1 kHz, 24-bit), unzipped: 333 MB
- VIK Eclectic Essentials vol. 1 - 105 x WAV (44.1 kHz, 31-bit), 100 & 110 BPM
- Himbrecht Deep Melodic Exotics 3 - 226 x WAV (44.1 kHz, 24-bit), unzipped: 547 MB
- Staniz Ethnic Minimal vol. 2 - 160 x WAV (44.1 kHz, 24-bit), unzipped: 310 MB
- Ancient Rhythms 2 - World Series - 121 x WAV (44.1 kHz, 24-bit), unzipped: 372 MB
- Agawe Cosmic Resonance vol. 1 - 232 x WAV (44.1 kHz, 24-bit), unzipped: 374 MB
- Shunus Organic Journey vol. 2 - 148 x WAV (44.1 kHz, 24-bit), unzipped: 779 MB
- Mario Bazouri Melodic Afro House vol. 1 - 95 x WAV (44.1 kHz, 24-bit), unzipped: 364 MB
- Deep Melodic Techno Mega Bundle - 417 x WAV (44.1 kHz, 24-bit), unzipped: 1,67 GB
- Year in Review (2019 Edition) - 968 x WAV, 53 x MIDI, unzipped: 2 GB - includes: HAFT Deeptone vol. 1, African Percussions - World Series, Downpour A Little Bit Deeper 2, Himbrecht Deep Melodic Exotics 2, Staniz Ethnic Minimal
- Melodic House & Techno Christmas Edition vol. 2 - 404 x WAV (44.1 kHz, 24-bit), unzipped: 1,5 GB
- Melodic House & Techno Christmas Edition - 406 x WAV (44.1 kHz, 24-bit), unzipped: 1,20 GB
- HAFT Ethnic Flavor & The Traditional Deep Mega Bundle - 657 x WAV (44.1 kHz, 24-bit), unzipped: 0,8 GB
- Year in Review (2018) - 777 x WAV, unzipped: 1,13GB - includes: HAFT Ethnic Flavor 2, HAFT The Traditional Deep Vol.1, Downpour A Little Bit Deeper, Himbrecht Deep Melodic Exotics
- Sfx Bundle 01 - 257 x WAV (44.1 kHz, 24-bit), unzipped: 779 MB
- Ancient Rhythms - World Series - 117 x WAV (44.1 kHz, 24-bit), unzipped: 411 MB
- Sfx vol. 3 - 130 x WAV (44.1 kHz, 24-bit), unzipped: 329 MB
- African Percussions - World Series - 135 x WAV (44.1 kHz, 24-bit), unzipped: 486 MB
- Middle East Percussions - World Series - 135 x WAV (44.1 kHz, 24-bit), unzipped: 297 MB
- Indian Percussions - World Series - 135 x WAV (44.1 kHz, 24-bit), unzipped: 426 MB
- Kick Drums Bundle - 220 x WAV (44.1 kHz, 24-bit), unzipped: 444 MB
- Himbrecht Deep Melodic Exotics Bundle 01 - 554 x WAV (44.1 kHz, 24-bit), unzipped: 935 MB
- Downpour A Little Bit Deeper Bundle 01 - 320 x WAV (44.1 kHz, 32-bit), unzipped: 809 MB
- 303 Acid Loops & Distorted Kick Drums Bundle - 210 x WAV (44.1 kHz, 24-bit), unzipped: 522 MB
- more Sample Packs