Details

Category: News
Created: 23 December 2020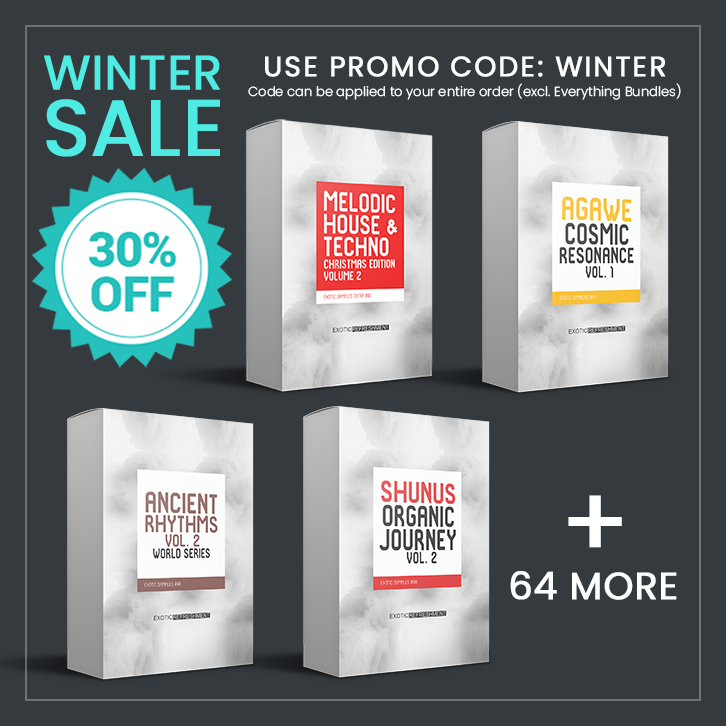 WINTER SALE starts now!
We have for you a 30% discount code valid for anything from our Exotic Refreshment and Gorilla Recordings Bandcamp stores... single tracks, compilations, albums, merch - you name it! :-)
To all music producer friends out there! You can use this code for all Sample Packs and Bundles (excluding Everything Bundles) available on our platform Exotic Music Production! :-)
Promo code: WINTER - Limited time only
Best / recommended deals with 30% discount code - Exotic (Music):
- Full discography purchase
- VA - Planet Earth - Chapter 1​​+​​2 includes 25 tracks from Frankey & Sandrino, Armen Miran, Mom, Kalya Scintilla, Desert Dwellers, Uji, Kris Davis, Miret, PAAX (Tulum), Mula (FR), Whitesquare, Räubermukke, Thodoris Triantafillou, Vincent Gericke, Derun, Landhouse, Zigan Aldi, Betelgeize, Amine K (Moroko Loko), Erdi Irmak, Holed Coin, ÜNAM and more...
- VA - Lost Poetry (Chapter 1​​-​​4 Pack) includes 55 tracks from Four Tet, Bicep, Mano Le Tough, Maribou State, Stimming, Acid Pauli, Nu, DJ Tennis, Catz 'n Dogz, Detroit Swindle, Axel Boman, Henry Saiz, Affkt, Goldcap, Hyenah, Schlepp Geist, Rodrigo Gallardo, Nuage, Zuma Dionys, Victor Norman, Kris Davis, Armonica and more
- Sergey Squire - Market incl. Mente Organica, Yohoros, Y.LOH and Socko remixes
- Kolomin - Aware Of Space incl. AmuAmu, Aleceo, Biralo and Ruveni remixes
- Bahramji & Medusa Odyssey - Jana (Remixes EP) incl. Themba, Goldcap, Nhii, Acado and Taavi Tuisk remixes
- SevenJune & Ian Ludvig - Every End Is A New Beginning incl. HRRSN, Daniele Di Martino and Arude remixes
- Agawe - Confused Karma incl. Ian Ludvig, Juliano Gomez, Auggië and T-Puse remixes
- VA - Mysterious Stories - Chapter 1​+​2 includes 25 tracks from Oceanvs Orientalis, Dengue Dengue Dengue, Armen Miran, Sahalé, Timujin, Timboletti, Valeron, Elfenberg, Luca Musto, Yør Kultura, SidiRum, Zuma Dionys, HAFT,Marco Tegui, Rapossa and more
- VA - Time Traveler (Chapter 1​-​4 Pack) features 52 full length tracks and remixes from Bicep, El Buho, Maribou State, DJ Tennis, Ripperton, Karmon, Oxia, Robag Wruhme, Red Axes, Luca Bacchetti, TACHES, Just Emma, The Drifter, Oceanvs Orientalis, Cinthie, Moscoman, Cuthead, The/Das, Man Power, Matthew Styles, Jacob Groening, Vok, Sam Goku, Iorie, Dandara, Xique-Xique, Kyrill & Redford and more
- VA - Burning Sun + Rising Sun (4 PACK) includes 48 tracks Nu, Uner, Nicola Cruz, Viken Arman, Just Emma, Sabo, Christos Fourkis, Iorie, Jake The Rapper, Rapossa, Rodrigo Gallardo, Alvaro Suarez, San Miguel, Timboletti, Kastis Torrau, Beatamines, Rafael Cerato, Jacob Groening and more
- VA - Moments (1​-​4 PACK) includes 59 tracks DJ Koze, Michael Mayer, Eagles & Butterflies, Kölsch, Seth Troxler, Detroit Swindle, Matthew Herbert, Tom Trago, Red Axes, HOSH, Fiora, Adam Port, Argy, Rampa, Axel Boman, Robot Koch, Frankey & Sandrino, Tiefschwarz, El_Txef_A, Nick Höppner, Moscoman, Dorisburg, The/Das, Ripperton, Be Svendsen, Tom Demac, Djuma Soundsystem, Armen Miran, Rancido, Canson, Eric Volta, Pilooski, Pablo Bolivar, Joe Goddard, SIS, Alex Kennon, Dave DK and more
- and more
Best / recommended deals with 30% discount code - Sample Packs:
- Melodic House & Techno Christmas Edition vol. 2 - 404 x WAV (44.1 kHz, 24-bit), unzipped: 1,5 GB
- Melodic House & Techno Christmas Edition - 406 x WAV (44.1 kHz, 24-bit), unzipped: 1,20 GB
- Deep Melodic Techno Mega Bundle - 417 x WAV (44.1 kHz, 24-bit), unzipped: 1,67 GB
- HAFT Ethnic Flavor & The Traditional Deep Mega Bundle - 657 x WAV (44.1 kHz, 24-bit), unzipped: 0,8 GB
- Year in Review (2019 Edition) - 968 x WAV, 53 x MIDI, unzipped: 2 GB - includes: HAFT Deeptone vol. 1, African Percussions - World Series, Downpour A Little Bit Deeper 2, Himbrecht Deep Melodic Exotics 2, Staniz Ethnic Minimal
- Year in Review (2018) - 777 x WAV, unzipped: 1,13GB - includes: HAFT Ethnic Flavor 2, HAFT The Traditional Deep Vol.1, Downpour A Little Bit Deeper, Himbrecht Deep Melodic Exotics
- Sfx Bundle 01 - 257 x WAV (44.1 kHz, 24-bit), unzipped: 779 MB
- Melodic House & Techno vol. 2 - 126 x WAV (44.1 kHz, 24-bit), unzipped: 447 MB
- Sfx vol. 4 - 130 x WAV (44.1 kHz, 24-bit), unzipped: 333 MB
- VIK Eclectic Essentials vol. 1 - 105 x WAV (44.1 kHz, 31-bit), 100 & 110 BPM
- Himbrecht Deep Melodic Exotics 3 - 226 x WAV (44.1 kHz, 24-bit), unzipped: 547 MB
- Staniz Ethnic Minimal vol. 2 - 160 x WAV (44.1 kHz, 24-bit), unzipped: 310 MB
- Ancient Rhythms 2 - World Series - 121 x WAV (44.1 kHz, 24-bit), unzipped: 372 MB
- Agawe Cosmic Resonance vol. 1 - 232 x WAV (44.1 kHz, 24-bit), unzipped: 374 MB
- Shunus Organic Journey vol. 2 - 148 x WAV (44.1 kHz, 24-bit), unzipped: 779 MB
- Ancient Rhythms - World Series - 117 x WAV (44.1 kHz, 24-bit), unzipped: 411 MB
- Mario Bazouri Melodic Afro House vol. 1 - 95 x WAV (44.1 kHz, 24-bit), unzipped: 364 MB
- Sfx vol. 3 - 130 x WAV (44.1 kHz, 24-bit), unzipped: 329 MB
- African Percussions - World Series - 135 x WAV (44.1 kHz, 24-bit), unzipped: 486 MB
- Middle East Percussions - World Series - 135 x WAV (44.1 kHz, 24-bit), unzipped: 297 MB
- Indian Percussions - World Series - 135 x WAV (44.1 kHz, 24-bit), unzipped: 426 MB
- Kick Drums Bundle - 220 x WAV (44.1 kHz, 24-bit), unzipped: 444 MB
- Himbrecht Deep Melodic Exotics Bundle 01 - 554 x WAV (44.1 kHz, 24-bit), unzipped: 935 MB
- Downpour A Little Bit Deeper Bundle 01 - 320 x WAV (44.1 kHz, 32-bit), unzipped: 809 MB
- 303 Acid Loops & Distorted Kick Drums Bundle - 210 x WAV (44.1 kHz, 24-bit), unzipped: 522 MB
- more Sample Packs
Best / recommended deals with 30% discount code - Gorilla (Music):
- Full discography purchase
- VA - Afterlife (Chapter 1​​​-​​​4 Pack) - includes 50 tracks from Charlotte de Witte, Radio Slave, SHXCXCHCXSH, Dapayk, Marco Bailey, Cari Lekebusch, Cassy, James Ruskin, Edit Select, Spartaque, Mihai Popoviciu, Drumcell, Cleric, Submerge, The Horrorist, Tiger Stripes, Loco & Jam, A.Paul, D.A.V.E. The Drummer, Peder Mannerfelt and more
- VA - Reborn - includes 13 tracks from Timo Veranta, Anna Unusyan, Henheimer, Itay Dailes, Hernan Tapia, Kevin York, Maunell, Leandroft, Juan Diazo, Dresem and Loog
- VA - The Underground 1​​-​​4 (4 PACK BUNDLE) -includes 48 tracks from wAFF, Anabel Englund, Tom Hades, David Temessi, Filterheadz, Mark Broom, D-Unity, Mihai Popoviciu, Spektre, Oxia, Panteros666, Philip Bader, DJ Le Roi, Nicolas Masseyeff, DJ YENI, Joeski, Re.you, Cari Lekebusch, Roland Clark, Tinlicker, Flug, Nikola Gala, SAMA, Matt Sassari, Alberto Ruiz, youANDme and more
- VA - Welcome To The Jungle 1​-​4 (4 PACK BUNDLE) -includes 49 tracks from Darius Syrossian, Ricardo Villalobos, Tadeo, Mark Broom, David Penn, Will Monotone, Fango, Phil Weeks, Dennis Cruz, Matt Sassari, Traumer, Raffa FL, MATRiXXMAN, Danny Serrano, Emery Warman, M.in, Jay Tripwire, Vincenzo D'amico, Yotam Avni, Vlada Asanin, Rhadow, Billy Kenny, Mihai Popoviciu and more
- and more